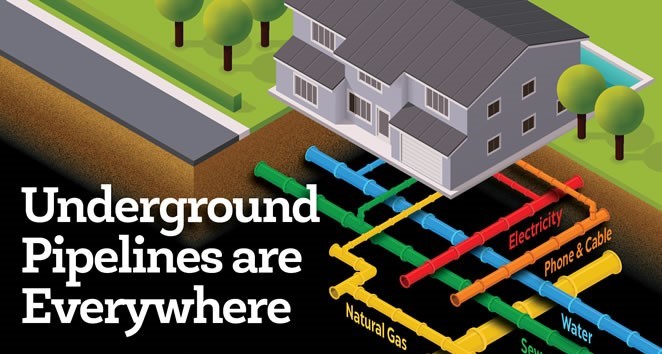 PRECISION PIPE AND CABLE LOCATING EQUIPMENT FOR SALE
If you're a part of the construction and building industry, there's a good chance that eventually you'll have to excavate on site, or simply know the location of buried services.
Without knowing what buried services there are, you're putting yourself and your staff in danger of either getting injured on the job or damaging valuable underground services and exposing your business to expensive repair costs or costly legal fees.
Protect your business and Staff by investing in accurate and top-quality pipe and cable locating equipment.
Simple and Easy to use, you'll be able to locate valuable underground utilities quickly and easily (and accuracy).
Use a pipe and cable locator to find Underground services before you dig!
Utilicom Has the Right Equipment for Locating Pipes and Cables
LINEFINDER 2200 COMPLETE KIT
MULTI FREQUENCY PIPE & CABLE LOCATOR
The LF 2200 is ready to accurately locate your underground utilities. It comes loaded with 3 built-in industry standard sonde frequencies, 16 Hz (steel or ductile iron), 512 Hz (cast iron or non-metallic) and 8 KHz (nonmetallic only) sondes.
Customize any sonde or line trace frequencies from 16 Hz to 100+KHz. And with the capability to trace underground metallic lines at 4 built-in industry standard frequencies using our BuzzBox external line exciter you will be ready to locate almost anything.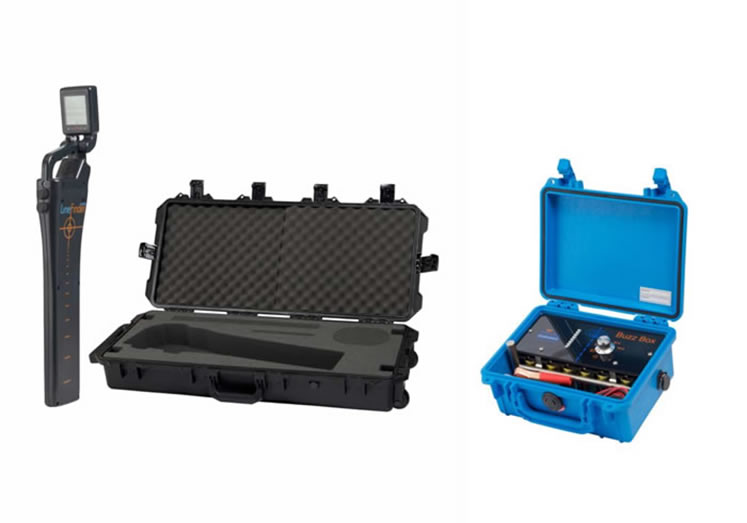 LCD screens come with automatic backlight and LED functions
4 Position switch helps you navigate through the screens with ease
Handle vibration helps guide you through the steps to
locating both sondes and lines with accurate position as well as precise depth
Headphone jack is perfect for locating on a noisy site
Low battery indicator so you know when it's time to change out your batteries
Introduction to Linefinders: https://www.youtube.com/watch?v=k0sQutfaawM
Inductive Locating: https://www.youtube.com/watch?v=UUMBTtstMOo
Conductive Locating: https://www.youtube.com/watch?v=IcbZGqB3Fr0
Locating Buried Power Cables: https://www.youtube.com/watch?v=DFVofr4QT9g
Locating a Sonde: https://www.youtube.com/watch?v=2TPA41oczyk
Practice locating a Sonde: https://www.youtube.com/watch?v=JNQYlX9MYGw
Sniffing a Frequency: https://www.youtube.com/watch?v=V-C58q21j0E
507B UNDERGROUND PIPE & CABLE DETECTOR
507B is a multi-functional underground metal pipe detector. It can be used to detect low-resistance fault points of underground cables to ground, find cable paths, cable burial depth and current measurement. It can also detect underground metal pipes. 
So it is not just a pipe finding device, with a variety of optional accessories to identify the target pipe or target cable, as well as the location of pipe insulation damage, cable low resistance and broken wire faults to locate
Underground Metal Pipe Detector
Transmitter frequency: from 256Hz-200KHz(15 frequencies)
Output power: maximum 10W, adjustable in 10 levels
Output current: 0~2A
Direct connection output voltage: up to 200Vpp
Receiving frequency: Detection frequency from 256Hz-200KHz
Passive frequency: 50Hz/60Hz
Positioning accuracy : depth 0-3m (±5%), depth 3-12m (±10%)
Maximum detection distance: The cable with good insulation in the direct connection method can reach up to 15KM
Pipeline detection modes:
Crest method
sound valley method
wave trough method  
peak valley method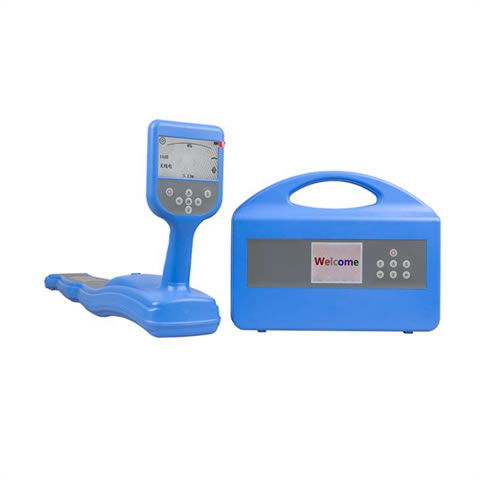 256Hz, 286Hz, 320Hz, 380Hz, 460Hz, 640Hz, 1280Hz, 1860Hz, 512Hz, 570Hz, 577Hz, 640Hz, 760Hz, 870Hz, 920Hz, 940Hz, 8KHz, 9KHz, 33KHz, 65KHz, 83KHz, 131KHz, 200kHz,
256Hz, 286Hz, 320Hz, 380Hz, 460Hz, 640Hz, 1280Hz, 1860Hz, 512Hz, 570Hz, 577Hz, 640Hz, 760Hz, 870Hz, 920Hz, 940Hz, 8KHz, 9KHz, 33KHz, 65KHz, 83KHz, 131KHz, 200kHz,